Searching for a job is quite a laborious process, normally hours (if not days) of research, visiting numerous job boards and setting up a profiles for each. Google are set to make a break from this often painful and time-consuming process.
The search engine giant will soon launch a new service, Google for Jobs, first in the US and then rolling out worldwide.
This new platform will cover every type of job from shop floor and entry level to company director and other professional jobs. It will also help Google's AI and learning algorithms to better understand how vacancies are sorted, classed and related.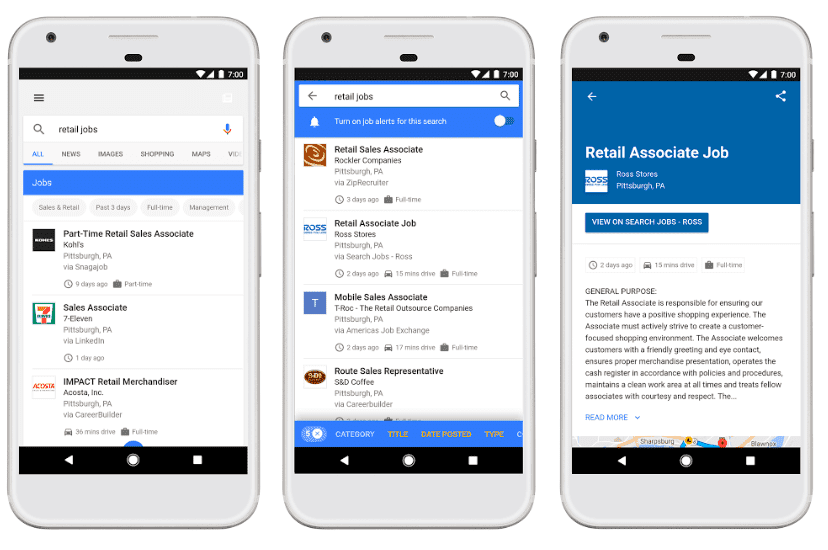 Photo credit: GOOGLE
In May, Google's CEO Sundar Pichai launched the service at the Google I/O conference, he said:
"46% of U.S. employers say they face talent shortages and have issues filling open job positions,"
he went on to say:
"While job seekers may be looking for openings right next door – there's a big disconnect here… we want to better connect employers and job seekers through a new initiative, Google for Jobs".
Google are now analysing what people in the US are typing into their search queries, and will then draw attention to jobs that match the query. For instance, queries like "jobs near me" or "retail jobs" will deliver an interactive experience with results collected from all over the net.
Job board website, Indeed, once marketed itself as the Google for jobs. Indeed will soon have to cope with Google becoming the Google for jobs!
Chris Hymas, president at Indeed said:
"We are happy to see that 13 years after Indeed launched, Google has woken up."
Google are not however setting themselves up as the sole platform for job searching, they're actually partnering with established recruiters, for instance LinkedIn, Facebook, Monster, Glassdoor and others.
Google will have a multitude of features that will help you find the right jobs for you. You will be able to filter jobs by location, title, level or type, date posted or whether it's full or contract, etc.
It will also integrate with other Google services like Maps, Calendar and Gmail, to give an idea of commute times, interview availability and the ability to send out alerts when search criteria is met.
Are UK recruiters ready for Google?
A recent survey taken from 100 of the UK's top recruitment companies showed that less than 50% had added the necessary structured data code, Schema, to their website job listings. Schema allows Google to quickly index vacancies on a website and add them to its rich-data search results.
This means that more than half of the UK's top recruiters will not be shown in Google's new service when it launches in the country later this year.
Google's algorithm for their jobs platform will learn and understand a lot about what their users are looking for in a role, but without Schema tagging on a recruiter's site, it won't know anything about the vacancies that are being advertised.
Web developers can use Schema to tag job listing fields that have information on the features of a job listing eg. location, salary, benefits, experience, qualifications etc. This makes it so much easier for Google's indexing spiders to understand what jobs are listed when Google for Jobs is launched in the UK.
Talk to us today about how you can take advantage of Schema tagging on your recruitment website.
Tel: 01628 509 630
Email: [email protected]
Chris Wray
Front-End Web Developer, Blowmedia