The gadget show was back at Birmingham for its live show and our developer Adam was there to take it all in.
This was the third time I have been to the gadget show and I was very excited to see what tech could be within our homes in the next year or what tech I can wish for. One of the bits of tech I was quite excited to see was the new curved TV's that boast ultimate viewing no matter what angle you are viewing the screen.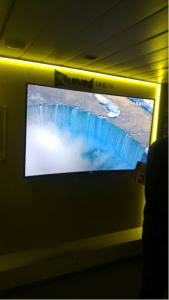 All I can say about this is it works! And if you are fortunate enough to be able to afford a 4K ultra HD TV then you will be the envy of everyone as it is at times better than real life. My jaw actually dropped when I saw the clarity of the screen and the smoothness of how the demo video ran. Now while this in my eyes will be the next big thing in TV tech (Which is annoying because I have just moved to OLED) please bear in mind the price. For a 50 inch Curved ultra HD OLED screen TV you are looking at close to £4,000 which will be out of so many peoples price range.
Looking through the stands there were the usual suspects at the show. Microsoft, Flumix, GAME, Samsung, GoPro just to name a few. There were also a few car manufacturers including KIA, Peugeot and VW. This brings me onto something that genuinely surprised me.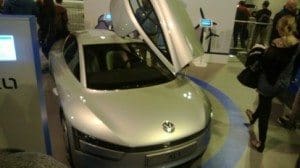 Looking like something you would see in an 80's sci-fi movie. The VW XL1 is a Diesel/ electric Hybrid engine which according to the VW representative can do 350 miles to the gallon (though on the website it says it can do 313MPG).  Here are a couple of pictures of the car. This is on the market now but before you think about running out to get one to try and save money on your diesel, pricing has been said to start at €111,000.
During the live show they showcased probably the piece of tech that is on everyone's lips at the moment. The Oculus Rift (OR) virtual reality kit. Throughout the day I had seen various stands using the headset but it was how the live show used the headset that impressed me the most.
They grabbed someone out of the audience and had them walk over a plank… Doesn't sound like much? What if I said the plank was between two high rise skyscrapers? Now obviously the audience member was in no danger but the way the VR kit worked made the audience member believe that she was doing it and she refused to walk across and when she did she was visibly distressed from doing it.
This showed to me that this is a piece of tech that does work however I am of the belief that I don't think it will be something that a normal consumer will want to have to wear to watch TV or play computer games.
This was really just a taster to everything that was there at the show. I can't really go into everything that was there (I might break the website) though I have put a few more pictures below taken from the show. If you get a chance to go I would definitely recommend it and you never know you might see a certain media company there one year.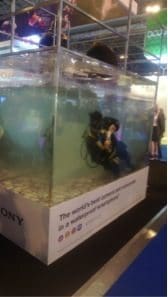 That's one way to test waterproofing phones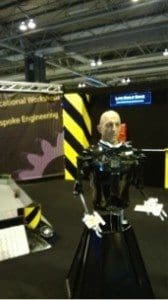 Fans of the show will recognise Robo Jason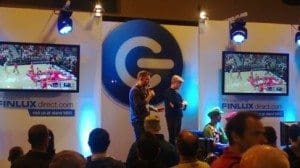 Familiar faces. Matt Litter & Darren Jeffries formally from Hollyoaks host the gaming section of the show.